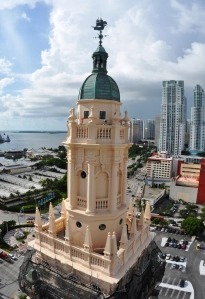 Aeon has just finished up their part in the exterior restoration of the Miami Freedom Tower, which was funded by a Save America's Treasures grant. Designed by the renowned hotel architects Schulze & Weaver in 1924, the Freedom Tower was originally built to serve as the headquarters of the Miami News. Later it was used by the Federal Government and became well known for serving as South Florida's equivalent to Ellis Island for refugee Cuban immigrants entering the US. Now owned by Miami Dade College, this distinctive building has undergone a huge restoration project and will become a museum.
General contractors Kaufman Lynn went on a national search to find experienced conservators to work with them on a tough schedule to document the condition and repair strategies for the Baroque Neoclassical facades. The expertise of Aeon's principal conservators and familiarity with working with cast stone and stucco made them ideal for the task.
Alfonso and Lane spent three weeks carefully surveying the entire façade. As the Freedom Tower is 255ft tall, that required using scaffolding, swing stages and self-propelled high reach platforms to get a close look at the intricate features. Aeon's principal conservators used innovative technology to directly update the architect's CAD base drawings with field data in real-time while they were working at height. In these challenging conditions, ruggedized tablet computers with special software could access the drawings which were hosted on a remote computer to protect the data.
Aeon mapped out all visible failures in the surface of the stone and stucco, and non-destructive evaluation methods were used to record underlying supports. As well as using direct observation to document the condition of the building, Alfonso and Lane studied archival records to provide supporting data that was critical to the project.
Aeon was widely praised by all members of the team for supporting the contractors and subcontractors with swift and valuable guidance. Aeon's effectiveness made possible the conservation and repair of the historic Freedom tower to schedule and with minimum loss of original material.