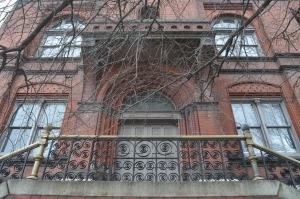 The 1880 Sidney R. Yates Building, standing near the National Mall in Washington, is made of red brick in the Romanesque Revival style. Originally, it housed the Bureau of Engraving and Printing and was later used for the Auditors division. Aeon was brought in to examine the pressed brick and stone main doorway, the pocket doors and leaded windows above, after water damage was noticed.
Alfonso and Lane, Aeon's principal conservators, found staining, scaling and efflorescence on the brick and sandstone. Furthermore, the mortar was soft and had failed, allowing moisture into the bricks. They swiftly realized that this water damage was likely a result of blocked guttering in the balcony over the door – the gutter had a small tree growing in it! To remedy this, they recommend that the tree is removed, and the guttered cleared out; then the masonry can be cleaned, repointed and patched where needed.

Meanwhile, the leaded glass window was buckling out of shape, and Aeon and their subcontractors will work to repair it. It will be removed, laid on a flat surface and resoldered, with broken glass pieces replaced.
The main doors are reproductions, Alfonso and Lane discovered, with missing hardware and peeling paint. They have proposed that the doors are taken down and refinished, possibly by graining to give a more period appearance. Then, the internal rollers and rails can be cleaned and lubricated, and replacement brass hardware added to the doors.